September 2018 – Tanya Lam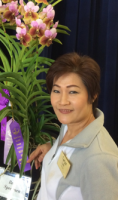 Tanya LamIt is a pleasure to welcome to our society for the first time Tanya Lam. Tanya hails from San Jose, CA, where she has been growing orchids since 1997. Tanya will be speaking on ' Helping your Orchids Thrive in Challenging Environments'. Since Tanya leads a very busy life juggling a full time job, frequently traveling for business, taking care of her family as well as her large orchid collection, she has had to develop successful conditions to grow her orchids to accommodate her life style and minimized the loss of plants during her travels.
After seeing orchids growing in their habitats in Thailand, Brazil, Ecuador and China, Tanya was determined to improve her growing conditions to overcome her environmental challenges. This required her to develop orchid mixes that would stay moist for 7-14 days and she also worked to also improve her greenhouse operations. Tanya's current collection is now improving with her successes, and she continues to try growing many species that she avoided before. During her talk, Tanya will share everything she does to make her collection thrive in San Jose, including how she waters, heats, cools and fertilizes her orchids. She also will provide the plant table this month.
Tanya is being co-sponsored by POS and SDCOS so she will be speaking to SDCOS on Tuesday evening about 'The Long Lasting and Frequently Blooming Orchid Species'. For those interested in attending her talk, please refer to the SDCOS website.
Tanya grows many species and hybrids in San Jose, with a collection of over 2,000 plants and over 50 genera. Her special interests are psychopsis, dendrobium, epidendrum, paphiopedilum, encyclia, cattleya, vandacous, and the few challenging angraecoids. She has recently explored many other orchid genera as well. Tanya likes "showy" orchids and on the search for long and/or frequent blooming orchids. She also likes to grow plants into specimen size. Her most favorite orchids are psychopsis and neofinetia (vanda) hybrids, both of which are almost always in bloom.
Tanya gives many talks to orchid societies locally in the San Francisco Bay area and many cities where she conducts her Human Resources System consulting businesses. She has held many board positions and is past Vice President and past President of Malihini Orchid Society and she is an active member of many orchid societies in California.=
Finally, Tanya has earned a few AOS awards and has two orchids named after her, the pictures of which are show below.
Date:
Wed, 09/05/2018 -

6:30pm

-

9:30pm