July 2018 – Debby Halliday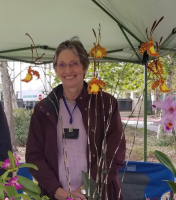 Debby HallidayWe are pleased to welcome back Debby Halliday as our July speaker. In her talk titled "All About Phalaenopsis", Debby will be talking about Phalaenopsis and how to be successful in growing and reblooming them. She will also give a repotting demonstration. These days Phals are often a person's first orchid and, if they can grow and rebloom them, they will always enjoy orchids. Debby will focus on discussing how and where these beauties grow naturally so that people gain an understanding of the plant's needs rather than just trying to memorize a list of Do's and Don't's. This lecture is geared to newer orchid growers, but hopefully everyone will find some useful tidbits they didn't know before.
Debby is the 1st Vice President of the San Diego County Orchid Society and has spoken at all of their recent shows and for several plant societies in the region. She has served as a ribbon judge at the SDCOS shows for the last 4 years and currently leads her judging teams. Debby enjoys helping people learn to be successful with orchids. She is an excellent orchid grower and has won many awards at SDCOS shows. She has a diverse background in growing orchids and plants in general. The following summarizes her background in her own words:
"My husband and I had our first orchid collection in 1970. We built a lean-to greenhouse over the bedroom windows of our rented Brooklyn townhouse and joined the New York Orchid Society. Those lovely people gave us our first orchids. When we left New York for the Caribbean the next year, we gave away that collection to other orchid growers. We spent the next 5 plus years in the Islands exporting tropical fish, where we once again grew orchids and enjoyed viewing them in the jungle as well.
We returned to the US in 1976 and moved to Fallbrook, CA. Our first business was growing cactus and succulents and the orchid hobby had to wait. We then became involved in international trade and raising our daughter. It wasn't until we moved to Rancho Santa Fe in 2002 that we were able to seriously pursue our orchid hobby again. We built a beautiful greenhouse on our property and started collecting orchids. Unfortunately, my husband passed away in 2012, but I continue to find great pleasure and satisfaction in growing orchids.
I presently have a collection of 400-500 orchids, which I grow in the greenhouse and an attached shade house. I have many different varieties of orchids, including a growing collection of orchid species. The diversity of orchids fascinates me and I'm always trying something new. I also have a collection of Phalaenopsis in all colors and sizes which give me the pleasure of their blooms throughout the year. I love to share my orchids at shows and am always pleased when one of our four shows a year is coming up."
Date:
Wed, 07/11/2018 -

6:30pm

-

9:30pm