March 2021 – David Haelterman (online presentation)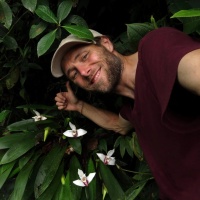 David HaeltermanOur Zoom meeting on Tuesday, March 2 at 7:30 pm will feature David Haelterman speaking on "The Genus Maxillaria in Colombia." David has lived in Cali, Columbia for 6 years, exploring the region as an orchid enthusiast and educator. Cali is a major metropolis, sitting in the Valle del Cauca, just to the East of the Farallones de Cauda, the very bio-diverse coastal mountain range.
He worked as an agronomist in his native Belgium, developing urban agriculture projects with schools and encouraging biodiversity through ecologically productive small-scale parcels. In Colombia, he explores the mountains, leads tours, gives lectures, and photographs especially the orchids of the region. Looking at his photo records, he seems to spend most of his time in the mountains.
In parallel to these professional activities, he has been passionate about orchids for more than 25 years, growing many genera such as Cattleya, Masdevallia, Restrepia, Odontoglossum, Kefersteinia, Pescatoria, Eriopsis, Stanhopea and allied, as well as Maxillaria, on which he is particularly specialized. His center of interest is especially focused on orchid taxonomy, their biogeography and their conservation in the wild.
He has a presence on Facebook with many photographs, and his photography is also accessible on Flickr.
Date:
Tue, 03/02/2021 -

7:30pm

-

9:30pm