September 2015 – Brandon Tam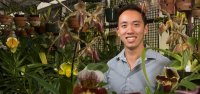 Brandon TamThis month, our guest speaker is Brandon Tam, Orchid Collection Specialist at the Huntington Library, Art Collections and Botanical Gardens in San Marino, CA. The Huntington has one of the largest orchid collections in the United States with 16,000 plants. Brandon will present an overview of the collection and discuss the Huntington's involvement in the orchid world. Then, he will present his 10 favorite orchids in the collection including their origins and growing culture.
Brandon has been with the Huntington for over 8 years. He began volunteering at the institution at the age of 14. There were always plenty of opportunities to quench his thirst for plant knowledge, from tending plants in the Conservatory to database entry of pressed specimens in the Herbarium.
Brandon credits his grandmother for inspiring him to further his studies within the botanical world and pursue a career within that field. She bought him his first orchid at age 7, a white flowering cymbidium. She would take him to their local nursery and let him pick out a plant on every visit. Over time, his orchid collection grew, and his knowledge of orchids grew also.
A few months after he graduated from high school at the age of 16, the director of the Botanical Gardens offered him an internship within the Orchid Department to reorganize and perpetuate the collection. He also began attending college, eventually earning a B.S. in Plant Science at California State University, Pomona at age 21.
Currently, at the age of 22, Brandon is the Orchid Collection Specialist focusing mostly on paphiopedilums, since a large chunk of the collection consists of that specific genus.
From hybridizing new plants to the propagation of rare and endangered species, it is a high priority for the Huntington to further the advancement of plants within the orchid world. At the moment, Brandon is working on the conservation aspect of the collection while acquiring and adding more rare orchids for the institution's fast-growing collection.
He is a member of 7 different orchid societies located all over Southern California and has served on the Board of the Directors for the San Gabriel Valley Orchid Society.
Down the road, he plans to travel the world orchid hunting on behalf of the Huntington. In addition to being the Orchid Collection Specialist, he is also the keeper of the Amorphophallus titanium collection, better known as the Corpse Flower. He oversees 50 titaniums alongside the orchid collection in the greenhouse, and has successfully bloomed one flower during his tenure, in August 2014.
Date:
Wed, 09/02/2015 -

6:30pm

-

9:30pm