January 2023 – Carol Klonowski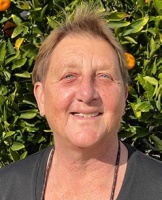 Carol KlonowskiFor our first meeting of the year, we are pleased to welcome Carol Klonowski from the Bay area, who will speak on the 'Orchids of South Africa'. Carol will take everyone on a tour of the orchid growing areas of this fascinating part of Africa and the world. Long known as one of the garden hot-spots of the planet, South Africa has a diverse and fascinating number of habitats and climates that provide a robust setting for flora and fauna of all types. Hear about the 'other' orchids Down Under and how to grow them in your collection. South Africa is the home of over 500 orchid species including the genera of Ansellia, Aerangis, Angraecum, Bulbophyllum, Disa, Eulophia, Mystacidum, just to name a few. Carol's talk is one not to be missed.
Carol is a shared speaker with our sister society, SDCOS, and she will speak to them on January 3 on 'Tolumnias' for those of you who would like to attend her talk in Balboa Park or via zoom.
Carol Klonowski has been growing orchids since the 1980's when a friend in Berkeley, California, gave her a cattleya orchid and it bloomed out with three big, dark lavender flowers and an intoxicating fragrance. She built an entire greenhouse in her backyard to accommodate the precious plant, which only led her to buy more orchids. Then another friend gave her a gift membership to the Orchid Society of California, and it's been a serious hobby ever since.
Carol has served as Director, Vice President, and President of the Orchid Society of California for most of the past two decades and is currently a Fully Accredited Judge with the American Orchid Society in the California Sierra Nevada Judging Center.
Date:
Wed, 01/04/2023 -

6:30pm

-

9:30pm