November 2017 – Arnold Gum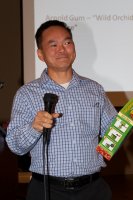 Arnold GumIt is a pleasure to welcome back Arnold Gum to our society. Arnold will present a travel log on his trips to Taiwan, as a guest of the Taiwanese government, to judge the Taiwanese International Orchid Show. Arnold also spent some time exploring Taiwan including looking at some of their wild orchids, visiting orchid nurseries, and having wonderful meals with the Mayor of Tainan (in the South of Taiwan) and the President of Taiwan, visiting amazing temples, the national museum, the pottery museum, and of course, shopping. Arnold will review the highlights of his trips to this orchid rich part of the world. It is a presentation not to be missed.
Arnold Gum is a patent attorney by profession, working locally at Qualcomm. He has been growing orchids for over 45 years and spent his youth with some of Hawaii's greatest orchid pioneers including Ben Kodama, Tadao Kazumura, Isamu Ota, Richard Takafuji, Richard Takase, and Goodale Moir. Arnold has been an American Orchid Society Judge for around 25 years and has been a member of various orchid societies along the way. He has won over 85 AOS awards and grows all sorts of orchids including cattleyas, phalaenopsis, papiopedilums, including lots of rare and amazing plants. Over the years, Arnold has amassed a collection of several thousand plants. Like many of us, Arnold also grows other types of plants, including epiphyllum cacti, aloes, plumerias, and fruit trees.
Date:
Wed, 11/01/2017 -

6:30pm

-

9:30pm