June 2014 - Bruce Kidd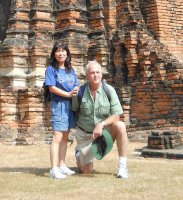 Bruce and Yasue Kidd have grown orchids for about 15 years on the edge of the Mojave Desert in Murrieta, CA. Bruce worked as a horticultural pest control adviser for Dow AgroSciences, a 30-year career which brought him into frequent contact with commercial orchid growers in Hawaii and California.
Since retiring in 2010, Bruce and Yasue Kidd have made several trips to Asia to see orchids in the wild, in local collections, and in nurseries. They spent the majority of their time in Thailand and Vietnam, not all of it focused around orchids. Bruce's presentation will cover some of the orchids, sights, and people one might expect or want to see during a visit to this part of the world. He'll take a close look at how the locals are working with orchids to conserve their natural legacy while expanding opportunities for ecotourism.

Date:
Wed, 06/04/2014 -

6:30pm

-

9:30pm