January 2019 – Brandon Tam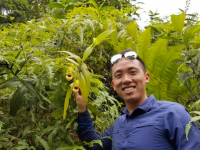 Brandon TamIt is our distinct pleasure to welcome back Brandon Tam as our first speaker of 2019. Brandon will talk to us on "Wild Orchids of Ecuador" which resulted from a trip he took in May, 2017 that included Harold Koopowitz and others on a trek in Ecuador led by Pepe Portilla (President of Ecuagenera), where the group saw many wild orchids and focused on the study of Selenipedium aequinoctiale. Brandon's presentation is a multimedia talk that includes both photos and videos of his trip highlighting the diversity of orchids found in Ecuador as well as the interesting local cuisine and a visit to the expansive nurseries of Eucagenera, which supplies thousands of orchids to countries around the world. This is a very exciting and educational presentation not to be missed. Alex has seen the talk twice and it is, in his opinion, one of the best travel orchid talks he has seen over the years.
Brandon is passionate about his career as the Orchid Collection Specialist at The Huntington Library, Art Collections, and Botanical Gardens in San Marino, California. He is a dedicated supporter of our orchid societies and has hosted several of our San Diego societies trips to the Huntington Library to view their extensive orchid collection.
Brandon's grandmother first introduced him to orchids when he was seven by giving him a white cymbidium. He volunteered at the Huntington during high school, and when he graduated at age 16, Dr. James Folsom, Director of the Botanical Gardens, offered Brandon a full-time position as the Orchid Collection Specialist. Brandon has managed the collection for the past eight years. While working with Dr. Folsom to reinvigorate the Huntington's orchid collection, Brandon attended California State University Polytechnic, Pomona, and earned his Bachelor of Science in Plant Science degree in 2015.
Brandon now oversees one of the largest orchid collections in the United States, which has grown from 2000 to over 10,000 plants in the past eight years. The Huntington's orchid collection is housed in over 26,000 square feet of growing area, which includes the Rose Hills Foundation Conservatory and three collection greenhouses, dedicated specifically for tropical plants. He also oversees the Huntington's 50 Amorphophallus titanums (better known as the "Corpse flower"), and has successfully bloomed one in 2014.
Brandon is also in charge of the annual Huntington International Orchid Show, which he inaugurated in 2015, and was in charge of hosting the annual meeting of the American Orchid Society at the Huntington in 2016.
Under Brandon's direction, The Huntington has won over 100 awards from the American Orchid Society within the last three years, which includes five First Class Certificates and three Certificates of Cultural Excellence. At the American Orchid Society Fall 2016 Members Meeting, The Huntington received The Merritt W. Huntington Award, which gives international recognition for the "Most Outstanding Orchid" in the year of 2015 for Paphiopedilum micranthum 'Huntington's Perfection' FCC/AOS. In 2016, The Huntington received not just one, but two American Orchid Society Special Annual Awards! Lycaste consobrina 'Huntington's Finest' AM-CCE/AOS received the Butterworth Award which goes to the grower of the plant exhibiting the finest orchid culture. It also received the Benjamin C. Berliner award which is given to most outstanding example of the genus Lycaste or its closely allied genera. At the time of judging, it had a total of 287 flowers and 7 buds.
In Brandon's spare time, he loves to travel, and of course…EAT! Additionally, Brandon was elected as Trustee of the American Orchid Society, for a three-year term, which started in March 2018.
January's plant table will be supplied by Alex Nadzan, which will consist of several select divisions and some of his own hybrid cattleyas.
Date:
Wed, 01/09/2019 -

6:30pm

-

9:30pm