November 2014 – Arnold Gum
This month's speaker is Arnold Gum who will talk on 'Wild Orchids of Southern France'. His presentation will survey the different orchids encountered in a variety of day hikes through Provence, most with orchids in mind, with a bit of discussion about the habitat and the travels, laced with a bit of French scenery, food and background.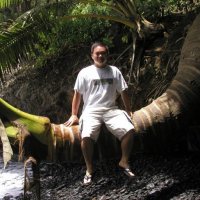 Arnold Gum
While the Provence region in the South of France is known for its delicious food, a broad variety of scrumptious cheeses, and fine wine, it is also one of the most bio-diverse regions in the world. This is indeed ironic, as humans are not well known for idle co-existence with nature. However, the coast of Provence has some of the earliest known sites of human habitation in Europe. Primitive stone tools dated approximately 1 million years BC were found between Monaco and Menton and remains of Roman ruins and old castles are common. Thus, it was with some delight that Arnold discovered that, amid the ruins of old civilizations, there are a host of butterflies, wildflowers, and orchids. The sheer number and variety of species speaks to the tenacity and resilience of nature! The orchids start blooming early, perhaps around March, each species blooming in a small slice of perhaps two weeks in any given area. The last bloomers may bloom as late as August or September! That means that the serious orchid lover needs to visit Provence multiple times to see all of the different orchid species in bloom! The orchids in the presentation consist of photos taken in two brief slices of time, once in the mid-June time frame and again, on a return trip to hunt for Ophrys, in early May. What Arnold found was nothing short of astounding. Ophrys were so thick that you could not avoid walking on them! Quite the sight, when you are used to the somewhat barren, dry Southern California landscape.
Arnold Gum is a patent attorney by profession and has been growing orchids for over 40 years. As a child, he spent many fascinating afternoons chatting about orchids with some of the pioneer orchid growers in Hawaii such as the Kodamas, the Moirs the Aokis and the Ais. He started growing orchids by attempting to plant one of his dad's Dendrobium pods and ended up flasking the seed in flasks kindly provided by the Stanley Taba Orchid Nursery. That blossomed into thousands of orchids in the back yard and has turned into a hobby that has survived college, multiple jobs, 6 orchid societies, 4 cities and 3 states. He currently grows mostly species of various sorts and is a judge for the American Orchid Society.
The plant table will be provided by Arnold consisting of some of his own divisions, supplemented by additional plants from Hawaii.
Date:
Wed, 11/05/2014 -

6:30pm

-

9:30pm