October 2023 – Doug Overstreet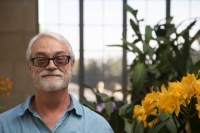 Doug OverstreetWe are delighted to welcome Douglas Overstreet, Orchid Specialist of the Thornton Conservatory at the Huntington Botancial Garden. Doug will present his talk on 'My 10 Favorite Oncidiums, Some of Which are Still Oncidiums'. Doug is a shared speaker with our sister society, SDCOS, and he will be presenting the same topic on Tuesday in Balboa Park.' Doug is a very experienced orchidist who has extensive knowledge on a large number of orchid genera. His talk will present a selection of beautiful and enjoyable species of plants in the Oncidiinae alliance that are easy to locate and grow in southern California. All of the plants used to be considered as genus Oncidium but some have been moved into other genera in the past few years. A brief explanation of these changes will be presented along with specific cultural considerations for each species. This month's plant table will come from one of our local nurseries.
Douglas Overstreet has grown orchids continually since he was 10 years old. He comes by his interest in plants and animals naturally. His family have been American farmers since 1684. The first orchid he purchased in 1972 was Cattleya Trimos, a primary hybrid between C. trianaei and C. mossiae. The first orchid he flowered was a phalaenopsis hybrid.
Doug moved to California in 1975 and continued his love affair with orchids. In 1984, his collection began to grow by leaps and bounds with his first professional job. He also became a very active participant in the local orchid community. He began to work with orchids professionally in 2000 as a private consultant. Gradually, this became his full-time occupation. He has managed private collections for leading hobbyists in Southern California for the last 15 years. He is an Accredited American Orchid Society Judge in the Pacific South Region.
An accomplished writer and educator, Doug has written articles for many different publications including Orchid Digest and has served on the Editorial Committee of that publication as Assistant Editor. He has spoken for orchid societies and other groups nationwide. Currently, he is employed by the Huntington Botanical Gardens and is the orchid specialist in charge of the Thornton Conservatory and the Ernest Hetherington Memorial Cattleya Collection.
Date:
Wed, 10/04/2023 -

6:30pm

-

9:30pm